Wing Surfing: what's this new sport all about and how to wingfoil?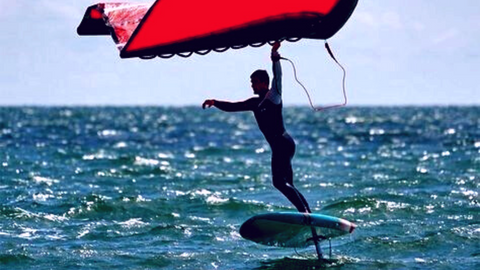 Wingsurfing, or you can call wing foiling, this new emerging water sport satisfies all wishes. The reasons behind this new tendency: it is a fun, exciting sport, and easy to practise with little risk!  
Although it is a new surfing sport, wing surfing (or wing foiling) is an evolution of two practices: windsurfing and kite surfing. It origins 1980s, and during this decade, surfing has become a lifestyle for millions of people around the world. Thus, the roll-up of the surfing craze has led to the emergence of all kinds of new ways to play. You can go to the Lahomawinds Shop to find the necessary equipment for Wing Surf.
In 1982, Frenchman Roland Le Bail designed a new form of surfing that he named "Birdsail". The equipment to practise this sport consists of a small board with a keel and a sail that is carried by both hands in almost the same way as for wing surfing. Roland Le Bail filed a patent for his new invention, but apparently he failed to promote it in the world.
Five years later, Finns Sami Tuurna and Carl-Magnus Fogelholm were inspired by Roland Le Bail's invention to develop new surfing equipment named Skimbat. It is a sail that looks like a small Delta wing and is held by both hands in the image of the Birdsail.
It was then the birth of the kite wing which is practiced until today on different types of surfaces: sea, frozen lakes, paved roads, concrete, etc.
We had to wait until 2015 to see the first prototype of Wing Surf, in its current form, worn by the American Tony Logosz. He is a man known in water sports circles as a former windsurfer, an entrepreneur (boss of Slingshot Sports), a designer, and an inventor of watersports equipment and accessories. 
The concept proposed by Tony Logosz has evolved into a discipline, and professional surfers and wing foiler Hawaiian Kai Lenny and American Robby Naish also participate in the promotion of wing surfing and the improvement of the wingfoiling equipment.
How does wingfoil work and how to wing foil (Beginners guide to learning wing foiling)
Wing foiling is a sports that requires two forces that are provided by wind and waves. It utilizes a wing in the form of a small inflatable sail and a sup (stand up paddle) or foil type board (with profiled fin) like the one used for kitesurfing.
To wingsurf, you must hold the wing by handles. Unlike kite surfing, the wing of wing foiling does not contain a bar, line or harness.Therefore, it's more space-saving and easier to control.
To ride on the water, simply raise the wing and work the arms to initiate the movement. The safety device includes a wrist leash that allows you to attach your arm to the sail and an ankle leash that allows you to connect your foot to the board.
During a fall or restart, the wrist leash can be used as a standby pull. For a person of average height, it is possible to swiftly reach a speed of 12-17 knots. Note that the wing surf wing can also be used for other outdoor activities like skiing, skateboarding, longskateboarding, snowkitting, etc.
How to improve your skills and use the right gear?
If you are a beginner, it is advisable to start the practice of wing surfing with a top board. As you progress, you can then practise with a foil board. The board should be wide enough while still being suitable for your size so that you can stand on it comfortably.
For safety reasons, it always wears a board leash, a wing leash, and a life jacket. To avoid damaging your foil, be sure to move far enough away from the edge. The manipulation of the wishbone is done in almost the same way as for windsurfing. The front arm will be used to control the steering. The rear arm will be used to control power. This sport has many advantages as mentioned in this article, you have to get started and try! Ideally, you should start training under a light or moderate wind. Once you master the technique well, then you can indulge yourself by practicing under a stronger wind.